KLITORIS HUOMIO! KLITORIS ATTENTION ! CLITORIS ATTENTION!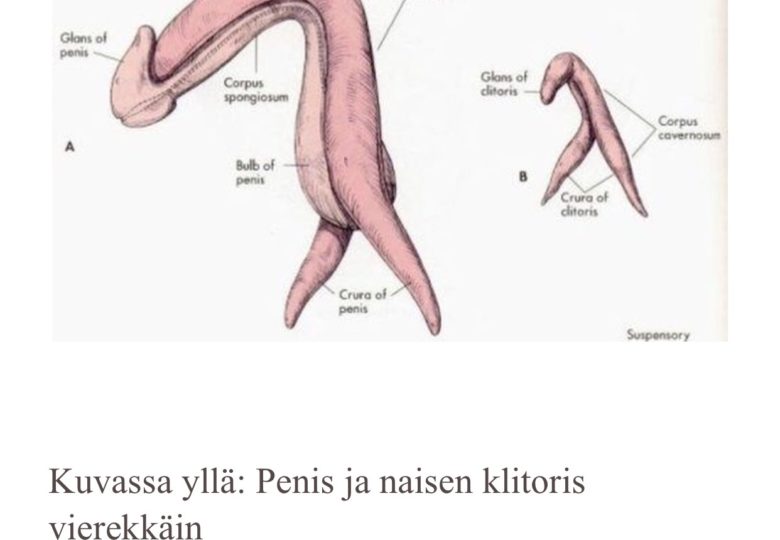 KLITORIS HUOMIO!
Kun me puhumme klitoriksesta, puhummeko me koko klitoriksesta vai ainoastaan siitä pienestä kärjestä, mikä on silmin nähtävissä ja sormin kosketeltavissa. Klitoriksen kokonaispituus on noin 7-13 senttiä. Se on siis suunnilleen yhtä pitkä, kuin keskipituinen, lepotilassa oleva penis.
Mistä tämä haloo, klitoriksen ympärillä johtuu?
Media on täynnä erilaisia seksineuvoja. Näin kiihotat naisen, erogeeniset pisteet ovat, viisi vinkkiä varmaan orgasmiin jne.
Neuvoissa on tyypillistä, että niissä klitoris nostetaan esille tärkeimpänä elimenä naisen seksuaalisuuden, kiihottumisen ja orgasmin kannalta. Myös monet seksuaalisuuden ammattilaiset sortuvat ylikorostamaan klitoriksen merkitystä naisen seksuaalisuudessa. Miksi klitoris on heille niin tärkeä, että sitä pitää korostaa niin voimakkaasti? Onko pohjimmiltaan kyse vain siitä, että klitorista huutavat eivät itse tiedä vielä yhtään mitään kehomme kyvystä kokonaisvaltaiseen nautintoon?
Näissä seksiohjeissa jaetaan neuvoja siitä miten hyväilet ja käsittelet klitoriksen pientä näkyvää päätä, mitä erilaisimmilla välineillä ja tavoilla. Pohdinpa vain, missä on vastaavat ohjeet miehen terskanpään käsittelyyn? Jos peniksen kärkeä, terskaa, käsiteltäisiin samankaltaisilla ohjeilla, kuin klitorista nyt työstetään, olisi kaikilla miehillä terskanpäät hiertymällä. Myydyin seksituote tällöin olisi terskanpään 'suojahattu', joka voitelee kipeää terskanpäätä, ennen seuraavaa teurastusta, jolla kuumennetaan mies varpailleen.
Tiesithän, että naisen klitoris ja miehen penis ovat toisiaan vastaavat. Alkiolla on kehityksen alkuvaiheessa sukuelimien esiasteena paisuvaiskudosta, josta alkion kehittyessä muodostuu joko klitoris tai penis. Miksi siis klitoriksen hyväilyä ja kiihottamista korostetaan niin voimakkaasti ja huomio terskanpäästä halutaan vetää toisaalle?
Entä, jos klitoriksen pää on yliherkkä kosketukselle, siinä ei ole tuntoa tai sitä ei ole lainkaan. Onko silloin muka suljettu kokonaan seksin ja seksuaalisen nautinnon ulkopuolelle? Eikö silloin voi kiihottua, olla seksiä ja kokea seksuaalista nautintoa? Kyllä voi. Nainen voi kiihottua ja saada seksuaalista nautintoa, vaikka klitorikseen ei kosketa ollenkaan. Halvaantuneilla, joilla ei ole lainkaan tuntoa sukuelimissään, voi olla hyvää ja nautinnollista seksiä. Seksi ja seksuaalinen nautinto eivät vaadi minkäänlaista klitoriksen räpläämistä.
Yleisesti seksiksi ymmärretään vain yhdyntänä ja klitoriksen hyväily nähdään yhdyntään johdattavana lämmittelynä. Tässä kohdin on jo tapahtunut suuri virhe. Seksin määritelmä toteutuu jo monessa sellaisessa toiminnossa, jota yleisesti kutsutaan virheellisesti esileikiksi tai jopa flirtiksi.
Klitoris ei ole naisen starttinappula. Nainen ei käynnisty klitoriksen pientä ulkoista päätä räpläämällä. Klitoris on yksi osa naisen sukuelimiä, josta näkyvissä on vain sen pienen pieni pää. Siihen keskittyy suuri määrä hermopäitä, mutta orgasmin kannalta tärkein hermo, kiertää kaikkialle kehossamme. Klitoris voi paisua ja jäykistyä myös naisen nukkuessa, ihan samoin kuin naisen vulva voi kostua nukkuessa. Tähän ei tarvitse liittyä seksuaalista kiihottumista tai nautintoa. Tiesithän, että naisen vagina voi kostua myös pelosta ja kauhusta.
Klitoriksen koko ja ulkonäkö ovat monimuotoisia. Sen koko ja herkkyys vaihtelevat yksilöllisesti. Klitoriksen näkyvissä oleva osa on vain pienen pieni osa koko klitoriksesta. Kaikilla meistä ei ole klitoriksen ulointa osaa ollenkaan, erilaisista tekijöistä johtuen. Kun seuraavan kerran kuulet väittämään "Klitoris on ainoa ihmiskehon osa, jolla ei ole muuta tehtävää kuin seksuaalisen mielihyvän tuottaminen", pysähdy pohtimaan, miksi miehellä on nännit. Ja kun seuraavan kerran haluat nuolla klitoriksen päätä tai imeä sitä, pohdi haluaisitko imeä sitä koko 8cm matkalta, mikäli se olisi mahdollista.
Nautinto ja seksi on paljon monipuolisempaa kuin pelkkä yhdyntä, sukuelinten hyväily tai klitoriksen pään räplääminen. Seksin tulisi saada olla meille kaikille hyvin monimuotoista ja mahdollisimman vähän eriarvoistavaa. Yhden pienen kehon osan ei tulisi koskaan olla niin ylikorostetussa asemassa, että sen toimimattomuus tai puuttuminen traumatisoi.
Todellinen avain seksuaaliseen nautintoon ja orgasmiin on kyky antautua nautintolle omassa kehossamme. Meidän on vain uskaltauduttava antautua niiden aistimusten vietäväksi, jotka saavat meidät tuntemaan olomme hyväksi ja kehomme kokemaan mielihyvää. Meidän on vain uskallettava jäädä nautintoon niin kauaksi aikaa kuin olemme sitä valmiit kokemaan. Klitoriksesta ja peniksestä riippumatta.
KLITORIS ATTENTION !
När vi pratar om klitoris, pratar vi om hela klitoris eller bara det lilla klitoris huvudet som är synligt för ögat och beröringsbart med fingrarna. Klitoris totala längd är mellan 7-13 centimeter lång. Det är ungefär samma längd som en medelstor penis i vila.
Var kommer denna gloria runt klitoris ifrån?
Media är fullt av olika slags råd. Hur man väcker kvinnors sex lust genom att beröra de erogena punkterna, fem tips för en säker orgasm, etc.
Det är typiskt för rådgivning att de framhäver klitoris som det viktigaste organet för en kvinnas sexualitet, upphetsning och orgasm. Många sexualitetsspecialister kollapsar också för att betona vikten av klitoris i en kvinnas sexualitet. Varför är klitoris så viktig för dem att den måste betonas så starkt? Är det i grund och botten bara att de som gör en stor sak om klitoris, ännu inte vet något om vår kropps förmåga till total njutning?
Dessa sexrådgivningar ger information om hur man smeker och behandlar det lilla synliga huvudet på klitoris med många olika sexleksaker och på andra sätt. Det får mig att undra, var är motsvarande instruktioner för att stimulera ollonet? Om ollonet på penis skulle bli behandlat med likadan runkning som man arbetar på klitoris, skulle alla män ha skavsår på ollonet. Den bästsäljande sexprodukten skulle då vara en "skyddande hatt" för ollonet, som smörjer innan nästa slakt som skulle eventuellt få mannen på sina tår.
Du vet att en kvinnas klitoris och en mans penis är detsamma. I de tidiga utvecklingsstadierna utvecklas embryon från en utväxt i embryot som kallas svällkroppar. Av det blir det antingen en penis eller en klitoris. Så varför är det så mycket betoning på att smeka och väcka klitoris och vilja dra uppmärksamheten bort från ollonen?
Tänk om klitoris huvud är överkänsligt för beröring, det har ingen känsla eller om du inte har det alls. Betyder det att du är avskild från sexuell njutning och sexualitet? Är det inte möjligt att bli kåt, ha sex och uppleva sexuell njutning? Jo det kan du. En kvinna kan bli kåt och ha sexuell njutning även om hennes klitoris inte berörs alls. Förlamade människor som inte har någon känsla i sina könsorgan alls kan ha bra och skön sex. Sex och sexuell njutning kräver inte klitoris upphetsning.
I allmänhet förstås sex endast som samlag och att leka med klitoris ses som förspel som leder till samlag. Ett stort misstag har redan gjorts vid denna tidpunkt. Definitionen av sex finns redan i många sådana aktiviteter, som ofta felaktigt kallas förspel eller till och med flörta.
Klitoris är inte en kvinnas startknapp. Kvinnan får inte sexlust av att runka det lilla huvudet på klitoris. Klitoris huvud är ungefär storleken och formen på en ärta och beräknas ha tusentals sensoriska nervändar, fortfarande den viktigaste nerven för orgasm, cirkulerar i hela kroppen. Klitoris kan också svälla och bli hård då kvinnan sover, precis som en kvinnas vulva kan bli våt medan du sover. Detta behöver inte involvera sexuell upphetsning eller njutning. Du vet att en kvinnas vagina också kan bli våt av rädsla och skräck.
Storleken och utseendet på klitoris är olika. Dess storlek och känslighet varierar individuellt. Den synliga delen av klitoris är bara en liten liten del av hela klitoris. Och många av oss har förlorat de yttre delarna av klitoris av olika skäl. Nästa gång du hör detta uttalande, "Klitoris är den enda delen av människokroppen som inte har någon annan funktion än att producera sexuell njutning." Sluta där och börja undra varför en man har bröstvårtor? Och nästa gång du vill slicka och suga klitoris. Tänk på om du kunde suga hela 7-13cm djupt, Om det var möjligt.
Nöje och sex är mycket mer varierande än bara sexuellt samlag, genitalbaserad upphetsning eller runkandet av klitorishuvudet. Sex bör tillåtas i olika variationer och så litet ojämlikhet som möjligt för oss alla. En liten del av kroppen ska aldrig vara i så hög position att dess dåliga funktion eller inte har en traumatiserar oss.
Den verkliga nyckeln till sexuell njutning och orgasm är förmågan att överge sig till nöjet i våra egna kroppar. Vi måste bara våga ge våra kroppar till den typen av njutbara upplevelser som väcker våra sinnen och låter oss njuta och må bra i vår egen kropp. Håll dig i njutning så länge som du är villig att uppleva det. Oavsett närvaro av klitoris eller penis.
CLITORIS ATTENTION !
When we talk about the clitoris, are we talking about the whole clitoris or just the small head of clitoris which is visible to the eye and touchable with the fingers. The total length of the clitoris is around 7-13 centimeters. It is about the same length as a medium sized penis in rest.
Where does this big highlighting around the clitoris come from?
The media is full of different kind of advice. How to wake up a woman's sex lust by touching the erogenous points, five tips for a sure orgasms and so on.
It is typical for advicers that they highlight the clitoris as the most important organ for a woman's sexuality, arousal and orgasm. Many sexuality specialists also collapse to highlight the importance of the clitoris in a woman's sexuality. Why is the clitoris so important to them that it must be highlighted so strongly? Is it basically just that those who make big noise about the clitoris, do not yet know anything about our body's ability for holistic whole body pleasure?
These sex advices provide information about how to wank the small visible head of the clitoris by many different sex-toys and other ways. That makes me wonder, where are the corresponding instructions for playing with a man's head of the penis? If the glans of the penis was treated with similar instructions to those how to work on the clitoris, all men would have heads of penis rubbed broken. The best-selling sex product would then be a "protective hat" for the head of the penis, which lubricates the sore before the next slaughter which would eventually push man on to their toes.
You know that a woman's clitoris and a man's penis are the same. In the early stages of development, from an outgrowth in the embryo called the genital tubercle develops into either a penis or a clitoris. So why is there so much highlighting on wanking and arousing the clitoris and by this taking attention away from the glans penis?
What if the head of the clitoris is hypersensitive to touch, it has no feeling or you do not have a one. Does that mean you are cut out from sexual pleasure and sexuality? Is it not possible to be aroused, have sex and experience sexual pleasure? Yes, you can experience all that. A woman can be aroused and have sexual pleasure even if her clitoris is not touched at all. Paralyzed people who have no feeling in their genitals at all can have good and satisfying sex. Sex and sexual pleasure do not require clitoris arousal.
In general, sex is understood only as intercourse and playing with the clitoris is seen as foreplay leading to intercourse. A big mistake has already been made at this point. The definition of sex is already present in many such activities, which are often incorrectly called foreplay or even flirting.
The clitoris is not a woman's start button. The woman does not start by wanking the small head of the clitoris. The head of clitoris is roughly the size and shape of a pea, and is estimated to have thousands of sensory nerve endings, still the most important nerve for orgasm, circulates throughout the whole body. The clitoris can also swell and get hard while a woman is sleeping, just as a woman's vulva can get wet while in sleep. This does not have to involve sexual arousal or pleasure. You know that a woman's vagina can also get wet from fear and horror.
The size and appearance of the clitoris are different. Its size and sensitivity vary individually. The visible part of the clitoris is just a tiny little part of the entire clitoris. And many of us have lost the outer parts of the Clitoris from various reasons. Next time you hear this statement, "The clitoris is the only part of the human body that has no function other than to produce sexual pleasure." Stop there and start wondering why a man has nipples? And next time you want to lick and suck a clitoris. Think about if you could suck it the entire 7-13 cm deep, If it was possible.
Pleasure and sex are much more varied than just sexual intercourse, genital based arousal or wanking the clitoral head. Sex should be allowed to various different types of it and as meagerly uneven as possible for all of us. A small part of the body should never be in such high position that its poor performance or not having one makes a trauma.
The real key to sexual pleasure and orgasm is the ability to surrender in to the pleasure in our own bodies. We just have to dare to give our bodies to that kind of sensible experiences that make us feel good and let our bodies experience pleasure. Stay in that pleasure as long as we are willing to experience it. Regardless of possible presence of the clitoris or penis.
KLITORIS ACHTUNG!
Wenn wir über die Klitoris sprechen, sprechen wir über die gesamte Klitoris oder nur über den kleinen Kopf der Klitoris, der für das Auge sichtbar und mit den Fingern berührbar ist. Die Gesamtlänge der Klitoris beträgt ca. 7-13 Zentimeter. Es ist ungefähr so lang wie ein mittelgroßer Penis im Stillstand.
Woher kommt diese große Hervorhebung um die Klitoris?
Die Medien sind voll von verschiedenen Ratschlägen. Wie man die sexuelle Lust einer Frau weckt, indem man die erogenen Punkte berührt, fünf Tipps für einen sicheren Orgasmus und so weiter.
Es ist typisch für Berater, dass sie die Klitoris als das wichtigste Organ für die Sexualität, Erregung und den Orgasmus einer Frau hervorheben. Viele Sexualspezialisten fallen ebenfalls ein, um die Bedeutung der Klitoris für die Sexualität einer Frau hervorzuheben. Warum ist ihnen die Klitoris so wichtig, dass sie so stark hervorgehoben werden muss? Ist es im Grunde nur so, dass diejenigen, die große Geräusche über die Klitoris machen, noch nichts über die Fähigkeit unseres Körpers zu holistischem Ganzkörpervergnügen wissen?
Diese Sex-Ratschläge geben Auskunft darüber, wie man den kleinen sichtbaren Kopf der Klitoris mit vielen verschiedenen Sexspielzeugen und auf andere Weise wichst. Ich frage mich daher, wo die entsprechenden Anweisungen zum Spielen mit dem Peniskopf eines Mannes sind. Wenn die Eichel des Penis mit ähnlichen Anweisungen behandelt würde wie die Behandlung an der Klitoris, würden alle Männer gebrochene Penisköpfe haben. Das meistverkaufte Sexprodukt wäre dann ein "Schutzhut" für die Eichel, der die Wunde vor dem nächsten Schlachten, mit dem den Mann auf die Zehen treibt, schmiert.
Sie wissen, dass die Klitoris einer Frau und der Penis eines Mannes gleich sind. In den frühen Entwicklungsstadien hat der Embryo einer Auswuchs, der als Genitaltuberkel bezeichnet wird, aus dem sich entweder ein Penis oder eine Klitoris entwickelt. Warum wird so viel hervorgehoben, wie man die Klitoris wichst und erregt und die Aufmerksamkeit von der Eichel abgelenkt wird?
Was denn, wenn der Kopf der Klitoris überempfindlich gegen Berührung ist, er kein Gefühl hat oder Sie keinen haben? Bedeutet das, dass Sie von sexuellem Vergnügen und Sexualität ausgeschlossen sind? Ist es nicht möglich, erregt zu werden, Sex zu haben und sexuelles Vergnügen zu erleben? Ja, das alles kannst du erleben. Eine Frau kann erregt sein und sexuelles Vergnügen haben, auch wenn ihre Klitoris überhaupt nicht berührt wird. Gelähmte Menschen, die überhaupt kein Gefühl in ihren Genitalien haben, können guten und befriedigenden Sex haben. Sex und sexuelles Vergnügen erfordern keine Erregung der Klitoris.
Im Allgemeinen wird Sex nur als Geschlechtsverkehr verstanden, und das Spielen mit der Klitoris wird als Vorspiel angesehen, das zum Geschlechtsverkehr führt. Zu diesem Zeitpunkt wurde bereits ein großer Fehler gemacht. Die Definition von Sex ist bereits in vielen solchen Aktivitäten vorhanden, die oft fälschlicherweise als Vorspiel oder sogar Flirten bezeichnet werden.
Die Klitoris ist kein Startknopf für Frauen. Die Frau startet nicht damit, den kleinen Kopf der Klitoris zu wichsen. Der Kopf der Klitoris hat ungefähr die Größe und Form einer Erbse und es wird geschätzt, dass der Tausende von sensorischen Nervenenden hat. Immer noch der wichtigste Nerv für den Orgasmus zirkuliert im ganzen Körper. Die Klitoris kann auch anschwellen und hart werden, während eine Frau schläft, genauso wie die Vulva einer Frau im Schlaf nass werden kann. Dies muss keine sexuelle Erregung oder Lust beinhalten. Sie wissen, dass die Vagina einer Frau auch vor Angst und Entsetzen nass werden kann.
Die Größe und das Aussehen der Klitoris sind unterschiedlich. Seine Größe und Empfindlichkeit variieren individuell. Der sichtbare Teil der Klitoris ist nur ein winziger kleiner Teil der gesamten Klitoris. Und viele von uns haben die äußeren Teile der Klitoris aus verschiedenen Gründen verloren. Wenn Sie das nächste Mal diese Aussage hören: "Die Klitoris ist der einzige Teil des menschlichen Körpers, der keine andere Funktion hat, als sexuelles Vergnügen zu erzeugen", halten Sie dort an und fragen Sie sich, warum ein Mann Brustwarzen hat. Und beim nächsten Mal, wenn Sie eine Klitoris lecken und lutschen wollen, überlegen Sie, ob Sie es die gesamten 7-13 cm Länge tief saugen wollten, wenn es möglich wäre.
Vergnügen und Sex sind viel vielfältiger als nur Geschlechtsverkehr, genitale Erregung oder Wichsen des Klitoriskopfes. Sex sollte zu verschiedenen Arten von Sex zugelassen werden und für uns alle so ungleichmäßig wie möglich sein. Ein kleiner Teil des Körpers sollte niemals in einer so hohen Position sein, dass seine schlechte Funktion oder das Fehlen eines solchen ein Trauma verursacht.
Der wahre Schlüssel zu sexuellem Vergnügen und Orgasmus ist die Fähigkeit, sich dem Vergnügen in unserem eigenen Körper hinzugeben. Wir müssen es nur wagen, unseren Körper solchen Erfahrungen zu unterziehen, die uns ein gutes Gefühl geben und unseren Körper Vergnügen bereiten lassen. Bleiben in diesem Vergnügen, solange wir bereit sind, es zu erleben. Unabhängig vom Vorhandensein der Klitoris oder des Penis.
ATTENTION CLITORIS!
Quand on parle de clitoris, on parle de l'ensemble du clitoris ou simplement de la petite tête de clitoris visible à l'œil et palpable avec les doigts. La longueur totale du clitoris est d'environ 7 à 13 centimètres. Il a à peu près la même longueur qu'un pénis de taille moyenne au repos.
D'où vient cette grande mise en valeur autour du clitoris?
Les médias regorgent de différents types de conseils. Comment réveiller le désir sexuel d'une femme en touchant les points érogènes, cinq astuces pour des orgasmes sûrs et ainsi de suite.
Il est typique pour les conseillers qu'ils mettent en évidence le clitoris comme l'organe le plus important pour la sexualité, l'excitation et l'orgasme d'une femme. De nombreux spécialistes de la sexualité succombent également pour souligner l'importance du clitoris dans la sexualité d'une femme. Pourquoi le clitoris est-il si important pour eux qu'il doit être mis en évidence si fortement? Est-ce fondamentalement juste que ceux qui font beaucoup de bruit sur le clitoris ne savent encore rien de la capacité de notre corps à un plaisir holistique du corps entier?
Ces conseils sexuels fournissent des informations sur la façon de branler la petite tête visible du clitoris par de nombreux jouets sexuels différents et d'autres manières. Cela me fait me demander, où sont les instructions correspondantes pour jouer avec la tête du pénis d'un homme? Si le gland du pénis était traité avec des instructions similaires à celles du travail sur le clitoris, tous les hommes auraient des têtes de pénis frottées brisées. Le produit sexuel le plus vendu serait alors un «chapeau protecteur» pour la tête du pénis, qui lubrifie la plaie avant le prochain abattage qui finirait par pousser l'homme jusqu'aux orteils.
Vous savez que le clitoris d'une femme et le pénis d'un homme sont identiques. Dans les premiers stades de développement, à partir d'une excroissance dans l'embryon appelée tubercule génital, se transforme en pénis ou en clitoris. Alors pourquoi y a-t-il autant de mise en évidence sur la branlette et l'excitation du clitoris et par cela détournant l'attention du gland du pénis?
Que faire si la tête du clitoris est hypersensible au toucher, qu'elle n'a pas de sensation ou que vous n'en avez pas. Cela signifie-t-il que vous êtes coupé du plaisir sexuel et de la sexualité? N'est-il pas possible d'être excité, avoir des relations sexuelles et éprouver du plaisir sexuel? Oui, vous pouvez vivre tout cela. Une femme peut être excitée et avoir du plaisir sexuel même si son clitoris n'est pas du tout touché. Les personnes paralysées qui n'ont aucune sensation dans leurs organes génitaux peuvent avoir des relations sexuelles bonnes et satisfaisantes. Le sexe et le plaisir sexuel ne nécessitent pas d'excitation du clitoris.
En général, le sexe n'est compris que comme un rapport sexuel et le jeu avec le clitoris est considéré comme des préliminaires menant à un rapport sexuel. Une grosse erreur a déjà été commise à ce stade. La définition du sexe est déjà présente dans de nombreuses activités de ce type, qui sont souvent appelées à tort les préliminaires ou même le flirt.
Le clitoris n'est pas le bouton de démarrage d'une femme. La femme ne commence pas par branler la petite tête du clitoris. La tête du clitoris a à peu près la taille et la forme d'un pois, et on estime qu'elle a des milliers de terminaisons nerveuses sensorielles, toujours le nerf le plus important pour l'orgasme, circule dans tout le corps. Le clitoris peut également gonfler et devenir dur pendant qu'une femme dort, tout comme la vulve d'une femme peut se mouiller pendant son sommeil. Cela ne doit pas nécessairement impliquer une excitation ou un plaisir sexuels. Vous savez que le vagin d'une femme peut aussi être mouillé par la peur et l'horreur.
La taille et l'apparence du clitoris sont différentes. Sa taille et sa sensibilité varient individuellement. La partie visible du clitoris n'est qu'une toute petite partie de tout le clitoris. Et beaucoup d'entre nous ont perdu les parties extérieures du clitoris pour diverses raisons. La prochaine fois que vous entendrez cette déclaration, "Le clitoris est la seule partie du corps humain qui n'a d'autre fonction que de produire du plaisir sexuel", arrêtez-vous là et commencez à vous demander pourquoi un homme a des mamelons? Et la prochaine fois que vous voudrez lécher et sucer un clitoris, pensez à si vous voulez l'aspirer sur toute la profondeur de 7 à 13 cm, si c'était possible.
Le plaisir et le sexe sont beaucoup plus variés que les rapports sexuels, l'excitation génitale ou la branlette de la tête de clitoris. Le sexe devrait être autorisé à différents types et aussi maigrement inégale que possible pour nous tous. Une petite partie du corps ne doit jamais être dans une position si haute que ses performances médiocres ou ne pas en avoir en font un traumatisme.
La vraie clé du plaisir sexuel et de l'orgasme est la capacité de s'abandonner au plaisir de notre propre corps. Nous devons juste oser donner à notre corps ce genre d'expériences sensibles qui nous font nous sentir bien et laissent notre corps éprouver du plaisir. Restez dans ce plaisir aussi longtemps que nous sommes prêts à en faire l'expérience. Indépendamment de la présence possible du clitoris ou du pénis.