Kehollinen nautinto – ymmärrämmekö me, mitä se on? Body-based pleasure – do we understand what it is?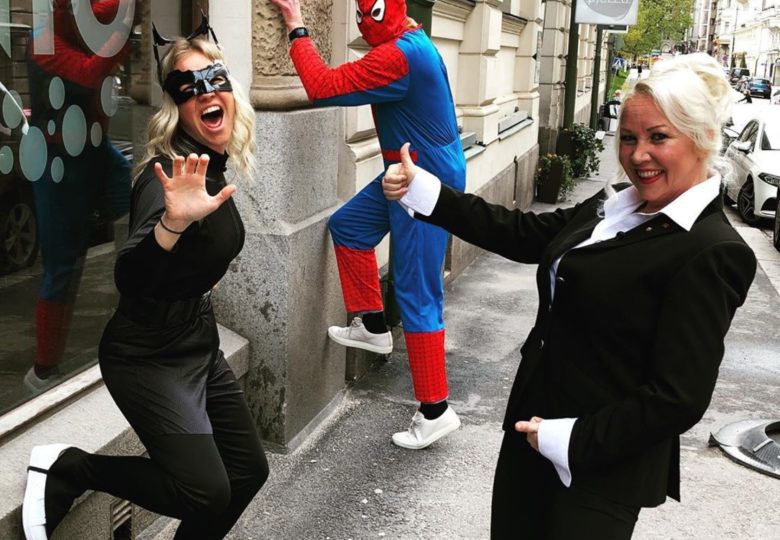 Ymmärrämme, mitä tarkoittaa, kun ohjaaja kehottaa näyttelijää käyttämään koko kehoaan ilmaisetakseen näytelmän hahmon tunteita. Ymmärrämme, kun valmentaja vaatii pelaajaa käyttämään enemmän kroppaa vastustajan taklaamisessa. Mutta kun seksuaaliterapeutti kertoo meille kehollisesta nautinnosta, ymmärrämmekö mitä se tarkoittaa? Näyttelemisessä, pelaamisessa ja kehollisen nautinnon kokemisessa on kaikissa kyse samasta asiasta, siinä hetkessä läsnä olemisesta ja koko kehomme käyttämisestä.
Istuessamme kahvilan terassilla nauttien kahvista tai samppanjasta, rauhoitumme ja nautimme siinä olosta. Mutta rauhoitummeko vain fyysisesti vai koemmeko nautintoa koko kehossamme? Olemmeko todella läsnä siinä hetkessä vai suunnittelemmeko, minne menemme ja mitä teemme seuraavaksi? Rauhoitutaan, rentoudutaan, hengitetään rauhallisesti ja tyhjennetään ajatukset ja siten aktivoidaan parasympaattista hermostoa, jotta nautimme siitä hetkestä koko kehossamme.
Liikkuessamme luonnossa kuulemmeko luonnon äänet, haistammeko sen tuoksut ja tunnemmeko auringon lämmön ja hennon tuulen ihollamme vai suoritammeko vain liikuntaa? Suorittaminen ja suunnitteleminen aktivoivat sympaattista hermostoa ja estävät meitä kokemasta nautintoa koko kehossamme.
Seksielämässä kehomme antaa meille paljon nautintoa, kun emme häpeä tai ujostele. Voimme käyttää kaikkia aistejamme ja elimiämme. Voimme nähdä, kuulla, haistaa, maistaa ja tuntea itsemme ja kumppanimme, oman ja kumppanimme koko kehon. Voimme aistia itsemme ja kumppanimme seksuaalisuuden.
Iho on suurin elimemme ja tuntuu hienolta koskettaa sitä ja tulla kosketetuksi. Ihon koskettaminen suulla, kielellä, hiuksilla tai kädellä tuntuu taivaalliselta. Voimme maistaa ja haistaa ihon, kun nuolemme ja haistelemme sitä. Voimme myös käyttää jotain apuvälinettä koskettaessamme. Silkkisukka, samettikäsine, jääpala, metallinen dildo tms antavat erilaisen tunteen. Ihana nautinnon tunne leviää koko kehoomme, jos vain sallimme sen.
Me kaikki tiedämme, kuinka paljon nautintoa saamme, kun suukottelemme kumppanin selkää, pakaroita ja jalkoja. Mitä, jos laajennamme kehollista nautintoamme ja hyväilemme niitä genitaaleillamme? Kuinka paljon nautintoa, jota emme ole koskaan ennen kokeneet, se antaisi meille ja koko kehollemme? Kun emme suorita, häpeä tai jännitä, vaan rauhoitumme ja rentoudumme, keho voi viedä meidät uudelle nautinnon tasolle.
Suorittaminen, jännittäminen, häpeä ja jopa negatiivinen muisto aktivoivat sympaattisen hermoston. Olemme valmiita puolustautumaan, olemme "taistele tai pakene" moodissa. Kun kosketamme, tunnemme sen vain koskettamiskohdassa. Nautinnon tunne ei leviä koko kehoomme.
Rauhoittuminen, rentoutuminen ja rauhallinen hengitys aktivoivat parasympaattista hermostoa. Se mahdollistaa meille tuntea koko kehossamme kaiken, mitä me aistimme. Aistimmepa sen näkemällä, kuulemalla, haistamalla, maistamalla tai tuntemalla. Kun aktivoimme parasympaattista hermostoa, leviää aistimuksemme kaikkialle kehoomme ja tunnemme kehollista nautintoa.
Kehollinen nautinto on sitä, että olemme läsnä siinä hetkessä ja käytämme koko kehoa nautinnon saamisessa.
We understand what it means when a director urges an actor to use his entire body to express the feelings of a character in a play. We understand when a coach requires a player to use more body to tackle an opponent. But when the sexual therapist tells us about body-based pleasure, do we understand what that means? Acting, playing, and experiencing body-based pleasure are all about the same thing, being present in that moment and using our entire body.
As we sit on the terrace of the cafe enjoying coffee or champagne, we calm down and enjoy being there. But do we just calm down physically or do we experience pleasure throughout our bodies? Are we really present in that moment or are we planning where to go and what to do next? Calm down, relax, breathe calmly and empty our thoughts and thus activate the parasympathetic nervous system so that we enjoy that moment throughout our body.
As we move in nature, do we hear the sounds of nature, do we smell it, and do we feel the heat of the sun and the gentle breeze on our skin, or do we just perform exercise? Performing and planning activate the sympathetic nervous system and prevent us from experiencing pleasure throughout our body.
In sex life, our bodies give us a lot of pleasure when we are not ashamed or not shy. We can use all our senses and organs. We can see, hear, smell, taste and feel ourselves and our partner, our own and our partner's whole body. We can sense the sexuality of ourselves and our partner.
The skin is our largest organ and it feels great to touch it and become touched. Touching the skin with our mouth, tongue, hair, or hand feels heavenly. We can taste and smell the skin when we lick and sniff it. We can also use some aid when we touch. Silk stocking, velvet glove, ice cube, metal dildo etc. give a different feeling. A wonderful feeling of pleasure spreads throughout our bodies if we just allow it.
We all know how much pleasure we get when we kiss partner's back, bum and legs. What if we expand our body-based pleasure and caress them with our genitals? How much pleasure, which we have never experienced before, it would give us and our bodies. When we do not perform, are ashamed or nervous, but calm down and relax, the body can take us to a new level of pleasure.
Performing, tension, shame, and even negative memory activate the sympathetic nervous system. We are ready to defend ourselves, we are in "fight or flight" mode. When we touch, we only feel it at the point of touch. The feeling of pleasure does not spread throughout our body.
Calming down, relaxing and breathing calmly activate the parasympathetic nervous system. It enables us to feel throughout our entire body everything what we sense. Whether we sense it by seeing, hearing, smelling, tasting, or feeling it. When we activate the parasympathetic nervous system, our senses spread throughout our bodies and we feel body-based pleasure.
The body-based pleasure is, that we are present in that moment and use the entire body to have pleasure.