Orgasmi vai siemensyöksy, olemmeko kiihottuneena vai jännittyneinä? Orgasm or ejaculation, are we aroused or excited?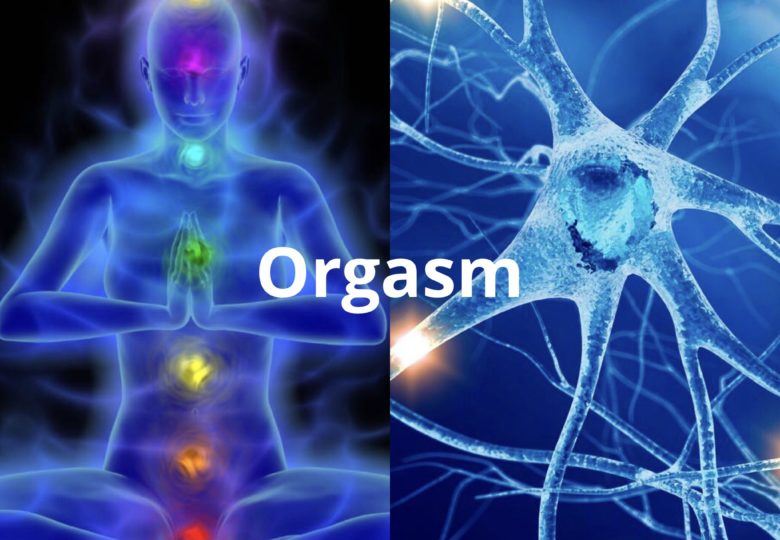 Autonominen eli tahdosta riippumaton hermosto koostuu sympaattisesta ja parasympaattisesta hermostosta. Sympaattinen hermostoaktivoituu silloin, kun meidän täytyy ponnistella, puolustautua tai olla valppaina. Parasympaattinen hermosto puolestaan on aktiivinen levossa ja unessa. Se rauhoittaa elimistömme ja palauttaa sen toiminnan tasapainoon. Hermostot vaikuttavat toistensa suhteen usein vastakkaisesti, mutta yleensä ne toimivat hyvässä yhteistyössä. Stressi, huoli ja pelko saattavat järkyttää tasapainotilaa.
Hyvä uni ja terveellinen ravinto ylläpitävät hermostojen tasapainotilaa. Kaikenlainen rentoutuminen, kuten rauhalliset kävelylenkit, lempeä jooga, mukavat harrastukset, nauraminen ja halaaminen palauttavat tasapainoa. Rauhallinen syvä hengitys vatsaan asti on kaikkein helpoin tapa aktivoida parasympaattista hermostoa.
Erektio ja ejakulaatio ovat naisilla ja miehillä samanlaisia. Ejakulaatiossa purkautuu rauhasten tuottamaa nestettä. Parasympaattinen hermosto ohjaa erektiota niin, että verenkierrossa sukuelimistä poistuu vähemmän verta kuin niihin virtaa sisään. Ejakulaation laukaisee sympaattinen hermosto, kun aivot ovat saaneet signaalin, että kiihottumista on tarpeeksi. Täysin riippumatta siitä, mikä kiihottumisen saa aikaan. Pelottava tai uhkaava tilanne saa aikaan sukuelinten kostuminen. Tämä saattaa johtaa jopa ejakulaatioon.
Orgasmi on naisilla ja miehillä samanlainen. Sitä ohjaa vagushermo, joka on parasympaattisen hermoston tärkein hermo. Vagushermo on kiertäjähermo, jonka välittämät signaalit ulottuvat kaikkialle kehossamme. Orgasmi ei siten rajoitu vain sukuelimiin, klitorikseen, G-pisteeseen tai eturauhaseen, vaan vagushermo tuo orgasmin kaikkialle kehossamme.
Orgasmi alkaa mielessä ja ilmenee sitten kehossa. Orgasmin kokeminen ei ole sidottu kehon ulkopintaan, sukuelimiin tai muihin kehon osiin, se tulee sisäpuolelta. Kun olemme kiihottuneet, seksuaalisesti tai muuten, voimme saavuttaa orgasmin koskematta sukuelimiä. Orgasmiin ei pääse nopeammin sukuelimiä hyväilemällä. Emme tarvitse erektiota emmekä siemensyöksyä saavuttaaksemme orgasmin ja pysyäksemme orgasmissa. Jopa henkilöt, joiden alavartalo on halvaantunut, voivat saada orgasmin ja pysyä siinä.
Orgasmi on mielen ja kehon yhteistoimintaa, jonka saavutamme ilman, että me suorittamme ja pyrimme tietoisesti päämäärään. Aktivoimalla parasympaattista hermostoa, rauhoittumalla, rentoutumalla ja rauhallisesti hengittämällä, meidän on mahdollista päästä orgasmiin ja pysyä orgasmissa. Pääsemme orgasmiin, kun emme tietoisesti ala suorittamaan ja siten aktivoi sympaattista hermostoamme.
Orgasmissa nautinto ja raukeus valtaavat kehomme, kuin kelluisimme lämpimillä aalloilla. Se on mielen ja kehon ekstaasi, jonka emme odota päättyvän ja josta emme haluaisi koskaan palata. Orgasmi on moniulotteinen kokemus, jossa yksittäisen kehon osan tunteminen ja paikantaminen eivät ole enää mahdollisia. Orgasmin kesto, laajuus ja toistuvuus on rajatonta. Jokainen meistä voi nauttia siitä niin pitkään, siinä laajuudessa ja niin usein kuin vain itse on valmis orgasmia kokemaan.
Yleensä ejakulaation selitetään olevan orgasmi. Se on kuitenkin mahdotonta, koska niitä ohjaa eri hermosto. Orgasmia ohjaa parasympaattinen hermosto, kun taas ejakulaatiota ohjaa sympaattinen hermosto. Ejakulaatiota ohjaa hermosto, joka on aktiivinen, kun meidän täytyy ponnistella ja olla fyysisesti aktiivisia. Orgasmia sen sijaan ohjaa hermosto, joka aktivoituu, kun me rauhoitumme ja rentoudumme.
Kun olemme innostuneita, sympaattinen hermosto aktivoituu ja päädymme vain siemensyöksyyn.
Mutta kun sen sijaan parasympaattinen hermosto aktivoituu pystymme saavuttamaan orgasmin ja pysymään orgasmissa.
Pitkäkestoisessa orgasmissa, meillä on nautinto, saavutamme tyydytyksen ja kaikenlainen addiktoitunut käyttäytyminen poistuu tarpeettomana.
The autonomic, or involuntary, nervous system consists of the sympathetic and parasympathetic nervous systems. The sympathetic nervous system is activated when we need to strive, defend, or be vigilant. The parasympathetic nervous system is active rest, sleep and relaxation. It calms the body and restores its balance of function. The nervous systems often have the opposite effect, but usually they work well together. In a stressful situation, anxiety and fear the balance may be destabilised.
Good sleep and healthy nutrition maintain the balance of the nervous systems. Everything relaxing, such as restful walks, gentle yoga, pleasant hobbies, laughing and hugging recovers the balance. Calm breathing up to the stomach is the easiest way to activate the parasympathetic nervous system.
Erection and ejaculation are similar in both men and women. Ejaculation releases fluid produced by the glands. The parasympathetic nervous system controls an erection and directs less blood to flow out of the genitals than flows in. The sympathetic nervous system triggers ejaculation when the brain has received a signal that there is enough arousal. Absolutely no matter what causes the arousal. A frightening or threatening situation causes excitement, which leads to genital erection and wetting and can even lead to ejaculation.
Orgasm is similar in women and men. It is controlled by the vagus nerve, the main nerve of the parasympathetic nervous system. The vagus nerve is a circulatory nerve whose signals extend throughout our body. Orgasm is thus not limited to the genitals, clitoris, G-spot or prostate, but the vagus nerve brings orgasm all over our body.
The orgasm begins in the mind and then manifests in the body. Experiencing an orgasm is not tied to the external surface of the body, genitals or other parts of the body, it comes from inside. When we are aroused, sexually or otherwise, we can reach orgasm without touching the genitals. Orgasm cannot be reached faster by caressing the genitals. We don't need an erection or ejaculation to reach orgasm and stay in orgasm. Even people with a paralyzed lower body can have an orgasm and stay there.
Orgasm is a cooperation of mind and body that we reach without us performing and consciously striving for a goal. Activating the parasympathetic nervous system by calming, relaxing, and breathing calmly, we able ourselves to reach orgasm and stay in orgasm. We reach orgasm, when we do not consciously begin to perform and thus activate our sympathetic nervous system.
In orgasm, pleasure and calmness take over our bodies, as if we were floating on warm waves. It is an ecstasy of mind and body from which we would never want to return and we do not wait it to end. Orgasm is a multidimensional experience where feeling and locating an individual part of the body is no longer possible. The duration, extent, and frequency of orgasm are limitless. Each of us can enjoy it for so long, to that extent, and as often as we just are ready to experience an orgasm.
Generally, ejaculation is explained to be an orgasm. However, it is impossible because they are controlled by different nervous systems. Orgasm is controlled by the parasympathetic nervous system, while ejaculation is controlled by the sympathetic nervous system. Ejaculation is controlled by the nervous system, which is active when we need to strive and be physically active. Orgasm, on the other hand, is controlled by the nervous system, which is activated when we calm down and relax.
When we are excited, the sympathetic nervous system is activated and we only end up ejaculating. But when, instead, the parasympathetic nervous system is activated and we are aroused, we are able to reach orgasm and stay in orgasm. We have long lasting orgasm, we have pleasure and we have satisfaction and any kind of addiction is no longer presented.
Watch videos and learn more about the orgasm and pleasure https://onlyfans.com/satusoderstrom1